Wood Stove Fans, Conversation Piece or Good Value for Money?
Posted on January 24 2020
A wood stove fan, or a fireplace fan, is a little fan that atop the wood burning stove and helps to distribute the heat better throughout the room. They use no batteries or household energy during the whole process, instead they are mostly self-powered and employ thermoelectric modules to spin the blades.
Wood stove fan became popular in recent years and is searched for most often in Canada, United Kingdom, and United States. The search interest starts rising from every July and peaks at its highest level every December. There are some major reasons for its popularity: increase of fuel efficiency, self-powered mechanism, saving on electricity bills, low noise, automatic controls, and sometimes even its simple and fashionable design. Therefore it brings an almost perfect solution to families who have wood stoves to warm the house but still have cold spots, since the heat stays around the stove and is not circulating.
However, there has been controversy about whether stove fans are conversation piece or really good value for the money. Some people still prefer box fans, others who are looking to buy one may also have questions like: which is the right model for me? Is there a model for stove that doesn't have a flat surface? Which stove fan would suit the size of my room? In this article, we will first explain the characteristics of wood stove fans. We will then list some of the products we think are among the best as well as their pros and cons, and offer a conclusion at the end.
What to look for before browsing online for a stove fan?
Room Size
Do you have a small or a large room? This later will correspond to the CFM (cubic feet per minute) feature of each stove fan. Lower rate of CFM is preferable for smaller spaces, and higher rate of CFM with bigger motor works better in larger rooms.
Size and Placement of the Stove
If you have your wood burning stove within a fireplace, you'll need to pay attention to the amount of space available for the fan, especially the height restriction.
Type of Your Stove
Is your stove a wood burning stove, a gas heating stove, an electric heating stove, or a pellet stove? Does it have a soapstone top? This is important because different kinds of heating stoves have different temperatures on its surface. And each stove fan has its own start-up temperature (or temperature sensitivity), which determines how high should the temperature be for the blades to spin.
Standard Features of Stove Fans
CFM rate
CFM rate stands for cubic feet per minute. As mentioned above, you'll need to check first the size of your room that is waiting to be warmed, then the CFM rate of stove fan, i.e. the volume of air that the fan can drive in a minute. The higher the value, the higher the effectiveness of the fan. However, some CFM rates do not perform as expected. That is to say, when it is said to be 140 CFM, it may push smaller volume of air than that when operating. Read as many customer reviews as you can and get a general idea of how it performs.
Size of the Fan
The feature that is searched for most often is the height of the stove fan. This is because many people have their wood burning stoves within a fireplace, as mentioned above. Remember to check on this data if you too have such a heating stove within a fireplace. The commonly seen heights of stove fans are between 18cm and 23cm.
Also, the fan only works best if there is enough space at the back because it will draw in cool air from behind for power. We'll discuss more about its mechanism below in the Design and Structure part below.
Start-Up Temperature / Temperature Sensitivity
Will the fan's blade spin automatically when a certain temperature is reached? Some stove fans have higher start-up temperature, while others are more temperature sensitive and require lower temperature to start. For example if you have the latest cool-topped stoves, remember to choose a stove fan with ultra low starting temperature. The commonly seen start-up temperatures are between 45°C(113°F) and 55°C(131°F).
Design and Structure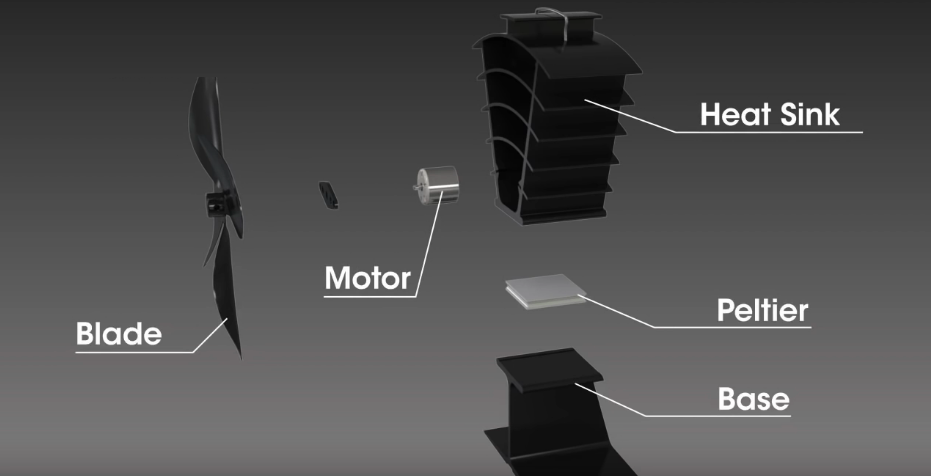 As you may have noticed, the stove fans on the market all have similar designs - that is a few pieces of metal fins with a sense of design behind the blades. Some of you may have the same question as I did: What are these fins for? Is it a functional feature? If yes, which designs are better? The top of the fan plays the role of a cooling device called heat sink. It is used to dissipate heat. To put it simple, after the wood is ignited, the base of the fan will reach a specific temperature (varies with the kind of fan in use) for the conversion of thermal energy into electric energy using a thermoelectric motor (peltier module) that spins the blades. On one side of the peltier module is the wood burner, and on the other is the heat sink, which cools the device and keeps the temperature difference across the device as large as possible, and hence generate as much power as possible. The keywords here include "Peltier", "Seeback Effect", and "semiconductor", if you are interested in knowing more about how the fan works. To conclude, the design itself of this part is very important, but the ones currently on the market make no big difference and should all do the trick.
Another question is whether the number of blades matters. According to our research and test, increasing number of blades results in higher volumetric and mass flow rates. Moreover, minimum interference effects between blades are found for two as well as six blade configurations. If energy efficiency coupled with volumetric flow rate is taken under consideration, a three or four blade configuration is more desirable, which are also the mainstream models now on the market.
Noise Level
Should be much less noisy than an electric fan, or works with no noise at all.
Automatic Control
Automatic control means an inbuilt safety system that protects the motor from damage. It is basically a heat sensitive bimetallic strip that's featured on its base and tilts the fan to protect the Peltier module from overheating when the temperature gets too high. Overheating is a common problem with all stove fans. Thus a good automatic control system is essential.
Fireside Accessories
A carry handle and a pair of gloves will protect you from the very heat when moving or carrying the fan. The use of a stove thermometer will also ensure a good stove safety practice. Take notice of whether the accessories mentioned are included in the package.
The Best Stove Fans 2020
This little Ecofan generates heat up to 140 cubic feet per minute and is able to keep the room up to 240ft2 warm and cozy.
It has a compact design with only 6 inches in height thus can be placed in small space.
Moreover, the Ecofan series are designed and manufactured in Canada, where they have been tested throughout the harshest winters.
Pros:
Only 6"/15cm tall
Made in Canada
2 year warranty
Good quality and whisper quiet
Cons:
No thermometer included
Not for large rooms
With its big size and premium quality motor, the VonHaus stove fan has a high CFM rate of 160-190 and is powerful enough to push large volumes of heat for large rooms.
It operates automatically between 122°F - 660°F with self-regulating speed, kicking into action at a moderate temperature.
The package includes a magnetic temperature gauge to monitor the heat and stove fan performance
Pros:
Extra-large design (H9" x W7.4" x D3.5 inches) to make maximum impact
Decorative and attractively made
Fast delivery and well packed
Come with a magnetic temp gauge
Cons:
Not pushing air as hoped for if temperature is not high enough
Another quality product from Canada.
The Ecofan Airmax is the most powerful model in the Ecofan family, moving up to 175 cubic feet of air per minute. It is said in the reviews that Airmax warms approximately 700 square feet of living space fairly quickly, and that one can feel the air movement within about 5 feet of the fan.
It is also the largest model at 10" tall x 5.5" wide x 3.3" long and comes with your choice of gold, nickel or black blade colour. The AirMax operates at a stove surface temperature range of 185° F to 650° F (85° C to 345° C).
For its price, you're paying for the high build quality. Many customers referred it as best bang for the buck.
Pros:
Canada design and quality
Whisper quiet operation
Heavy duty
2 year warranty
Replacement motors are readily available in most local home hardware stores in case you ever need one
Cons:
If you happen to be looking for protective gloves for hot coals, open flames, grinding debris or hot cooking steam, then this one should be an excellent choice. The package includes a heat powered stove fan, 2 pieces of magnetic stove thermometers, and 1 pair of heat resistant stove gloves, which are said to be made of good quality material and comes in handy for not only the wood burner but to use at the fire pit.
Pros:
Pushes the hot air efficiently
More accessories available especially the thick and protective gloves
Cons:
No clear mention about CFM rate
This model is a good solution for the stoves that are designed with a decoration on top, or are simply not perfectly horizontal for a stove fan to sit on. The stove fan can be attached to the pipe with a clamp which will fit 5-6 inch (12-15 cm) diameter. If you ever need it for bigger pipes, you can go to a farm store or irrigation supplier and get bigger bands.
It is super silent, sturdy and solid, with prompt delivery to solve pressing problem of cold.
The only issue is that CFM rate seems a bit lower than other models when the fan is attached to the pipe, because it is not far enough from the heat source (the pipe). When the stove fan is attached to the pipe, the hot air can become trapped which means there is not such a wide difference in temperature across the peltier module. The fan does not spin as fast because less electricity is generated when the difference in temperature is less. However there are also other reviews said that it DOES move a decent amount of air, and that the heat can be felt on the complete opposite corner of a medium sized room.
Pros:
Can be placed on the pipe
Nice price
Come with a thermometer
Cons:
CFM rate may be a bit low when attached to pipe
It starts turning minutes after the fire is lit, which is at 45℃ (113℃) according to user instruction. The heat powered stove fan can automatically start when the surface temperature reaches 45°C(113°F). The higher temperature is, the faster the blades spin, and the more warm air is moved.
Airflow is 105-150 CFM.
Pros:
Fast start at low temperature
Has a heat sensitive metal as safety device to protect the motor from overheating
Nice price
Cons:
CFM rate not high enough for large rooms
4.4 out of 5 starts with over 700 ratings and a nice price around $30USD (Jan. 2020).
Recommended working temperature is between 185°F - 660°F (85°C - 350°C) with a bi-metallic safety device in the base of the stove fan to ensure longer lifetime.
Pros:
Feels sturdy and runs pretty quietly
Nice price
Cons:
Doesn't push much air as expected according to some buyers
Dual motor 8 blades heat powered wood stove fan with magnetic atove thermometer, this little guy moves more air than some larger units.
The CFM rate is about 125-161 when operating temperature is 200-350°C.
With height only 13.8 cm (5.43 inch), it fits well in narrow spaces and seems to move a descent amount of air in the room.
The brand GalaFire has 8 years experiences in heat powered stove fan industry.
Pros:
Small size for space with height restriction
Circulate descent amout of air
2 year international warranty
Thermometer included
Cons:
The Steelhead stove fan is an excellent performer across a wide range of temperatures from 110°C to 450°C (230°F to 842°F). It works on any wood burner, multi-fuel or coal stove and circulates in excess of 320 CFM of air. It is a small precision engineered Stirling engine with no electrical components, and runs quietly and uses only heat as fuel.
This model is made in the UK with durable materials and the finish work is beautifully done. More detailed pictures of parts are available on the Amazon page. It is very enjoyable to just look at the pictures even if you are not buying it. In addition, every Steelhead stove fan is laser engraved with a unique serial number, making it very special and collectible.
The package includes maintenance kit with lubricant, which is very considerate.
Pros:
Premium quality and workmanship
Appealing and classic design
Made in the UK
Cons:
Overall height is 12.8 inches which may not fit in small spaces
Pricey
Conclusion
Wood stove fans can greatly improves the efficiency through moving a large volume of air slowly. However the "thrust" of the fan isn't anything crazy but given the fact it's running solely off the power from the stove and it's such a small fan, it's sufficient. Don't expect a blast of hot air but do expect the room to warm quicker and get warmer with these fans who gently circulate the air. Keep in mind that this is a small fan so it's not going to push the same air as a large fan.
It also gives us a visual indication of when we need to refill the stove when the fan slows or stops.
We hope that this review list will help you determine which features are most important to you when buying a stove fan, enabling you to narrow down your choices.
Send us a sourcing request
and get free quote if you'd like to source similar or other products at wholesale prices. We are a leading sourcing partner from China. We provide one-stop sourcing solution for small business. By using our service, you only need to deal with us during the whole process. No minimum order requirement.