Best Kalimbas 2019 – Top 8 Kalimbas Reviewed
Posted on November 30 2019
We have covered kalimba in one of our blog articles Top 4 Most Interesting Musical Instruments That Are Easy To Learn two years ago. It went very well and we've been obtaining continuous enquiries and orders for this product. So we decide to write a blog separately about kalimba and elaborate a bit on this relaxing musical instrument.
Kalimba is an African musical instrument played by holding it in the hands and plucking the tines with the thumbs. Some of the other names are Mbira, 17 Keys Thumb Piano, Finger Piano, Thumb Piano, Hand Piano, Pocket Piano, Portable Piano and so on. It can play a variety of music: African, pop, folk, classical, country music, light music, carols. And there are some tricks for making cool sounds: Double Tone, Glissando, The vibrato effect, and Wah-wah performance.
It's all about Christmas!
Kalimba is one of those gifts that can be given to almost anyone: kids, girlfriend or boyfriend, wife or husband, parents, friends, colleagues, etc. It's getting more and more trendy due to it's warm timbre, portable size, learnability and affordable price.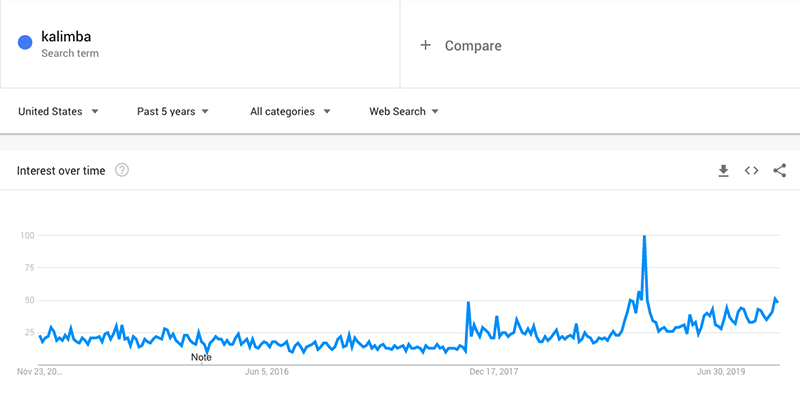 (Google Trend: keyword "kalimba" for the past 5 years)
In this article, we will help you identify the features that everyone should be looking at while buying a kalimba. We will also list some of the products that we think are among the best as well as their pros and cons. Most of them are carefully chosen from what our customers have been buying.
Standard Features
- Plywood VS. Solid Wood
- Selecting Wood Types
- 10 Keys VS. 17 Keys
- Interface For Connecting Amplifier
- Price
- Playability
Plywood VS. Solid Wood
As a musical instrument made of wood, there're two types of materials for its soundboard - plywood and solid wood, which will make kalimba emit completely different sound. By observing through the cross section at the sound hole, one can easily tell whether the board is made of plywood or solid wood.
Plywood - a laminate made of 3 thin layers of wood. The vibration is transmitted through multiple layers causing a loss of sound, thus the sound volume is decreased, along with the timbre being more mixed and less ethereal.
Solid Wood - has a more compact structure, which allows the vibration to be quickly and fully transmitted, making the tone purer and of finer quality.
Selecting Wood Types
Now let's take a look at wood types.
Mahogany, acacia koa, spruce, sandalwood, and bamboo - these are the common materials used in making kalimbas.
Mahogany: beautiful wood grain, suitable for varnish or red gradient painting; sufficient resonance and warm timbre, sound lasts long.
Acacia Koa: beautiful wood grain, with aroma of wood, dark brown color; timbre is of mid-frequency, with sufficient resonance and pleasant timbre.
Spruce: Yellowish white to pale brown in color with medium to fine wood grain texture; Lightweight, no special aroma of wood; Excellent acoustic properties and musicality of wood. Basically, the best acoustic stringed instruments of any kind are those made with the highest quality solid spruce soundboards. The finest violins, cellos, guitars, etc. are all built with spruce soundboards.
Bamboo: The texture is distinct and beautiful with a smooth touch; when used to make musical instruments, it has a strong and lasting resonance; Crisp yet soft sound with special aroma of bamboo.
Kalimbas constructed from different materials have different sound effects. If you are to sing while playing, spruce will be a good choice. If you are to play without singing, then mahogany and bamboo are fine. If you are looking for better appearance and sound quality, then spend some extra money on acacia koa will be a wise choice.
Main choices on Amazon: mahogany, sandalwood, and acacia koa.
10 Keys VS. 17 Keys
Most kalimbas on the market are either 10 or 17 notes, which means they have 10 keys or 17 keys. The more keys, the broader its register is, and the more songs you can play. Therefore it is strongly suggested that you could just pick 17 keys as your first kalimba. There isn't much difference in difficulty of playing.
Interface For Connecting Amplifier
Electric thumb piano means that the sound signal of kalimba can be picked up and sent to the amplifier through the signal cable. The difference between an electric kalimba and a traditional kalimba is that there is an additional built-in Hi-Fi pickup to boost and maintain the original sound of kalimba after connected to an amplifier. Electric kalimbas are perfect for stage performance.
If you are buying a kalimba mainly to entertain yourself or a few friends at a home party, it is recommended to buy an original kalimba. Because you don't need to connect Kalimba to the amplifier, as the volume itself should be loud enough for these occasions.
If you want to perform on stage in the future and face a large number of audiences, then you should consider an electric one. Because if later you use the microphone on the stage to pick up the sound, you'll get a poor sound quality. An electric kalimba with its own built-in pickup can come in handy by then.
Price
Price is a big concern when purchasing musical instruments.
Generally speaking, the price of 17-key Karimba is mostly between $20 and $40. The price range is small compared to prices of guitars, ukuleles and other musical instruments, and it is also much cheaper. Brands like HOKEMA is a bit more expensive though.
Price affects workmanship and quality more or less, and there will also be differences in timbre.
Playability
Different brands have different heights and bending angles of tines. For example, tines of GECKO kalimba have a high tension and the end of each tine has a special arc design. They are less likely to get stuck when doing glissando. Some kalimbas will also have hand rest curve design to improve the experience when playing.
The Best Kalimbas
Handmade with high-quality mahogany and ore steel bars, this GECKO kalimba is the No.1 best seller in thumb pianos on Amazon. It's also our No.1 best seller.
It comes with a nice soft touch protective case with a tuning hammer nestled within the bottom.
The timbre seems warm, and sound lasts long.
If you can't decide which one to pick, just try this one. 4.8 out of 5 stars with over 330 ratings, you are unlikely to make a mistake.
Pros:
High quality and well made
Comes with everything you need to get started especially a nice EVA box
Long warranty of 365 days, 45 days unconditional return guarantee
Cons:
We really love this kalimba because it offers an extreme amount of value for the money.
The natural air-dried wood provides ethereal timbre. The keys are embossed with letters and notes that give a sense of quality and are different from other kalimbas which use stickers notes. Hand-rest curve design is friendly to those who play it a lot .
Pros:
Embossed notes
Hand-rest curve design
Finger covers available
Cons:
Need to contact the supplier for an additional electronic songbook for free
It's made of solid okoume, which can show in color from medium chocolate brown to reddish brown with an oily appearance under illumination. The color and grain of the wood are beautiful. Many people are impressed with the workmanship and the tone of the instrument.
It currently gets a high rate 4.9 out of 5 stars. This is a Christmas gift that your loved ones are going to be excited to receive!
Pros:
Lovely sound
Material change of color
Finger covers available
If you're looking for a budget kalimba that truly is low budget, then it's hard to go wrong with the Helesin finger piano. It comes with everything you need including Kalimba finger piano, instruction and manual, cleaning cloth, cotton bag, tuning hammer, stickers, small finger protector, etc.
The best thing about this kalimba is the highly competitive price tag, which pegs it at one of the cheapest kalimbas you will find on the market made of mahogany wood. It has a solid-construction cut from mahogany for a beautiful tone and an interesting wood grain pattern. It features 17 strong tines that have a screw locking system to help ensure they stay in key for longer.
Pros:
Well-manufactured and competitive priced
High quality mahogany wood
Pretty apprearance and sound
Full package
Cons:
Basically all kalimbas are for kids, as kalimba is often advertised as "without music foundation or operational experience, you can easily get great music".
But if you want to be more certain, I think this one is one of the best choices you can make for most kids. It's much smaller in size and has 10-note option. You know, there are a lot of adults who get a 17-note kalimba and then get frustrated with it, because it is more complicated than they are ready for (of course many kids are very talented and learn much faster than adults do...).
"What kalimba should I get for my kids?" Some people say that it depends on how old they are and "ONE TINE PER YEAR OF AGE" is a good rule. So if we are to follow this rule, then this kalimba we have here is for kids ages 8-12.
The tines are designed to produce sound with minimal pressure needed. And there are 22 songs included in the attached sheet music card set that are popular among kids and can be played immediately.
Pros:
Small in size
Minimal pressure needed to produce sound
Nursery rhymes song sheets available
Cons:
Not for adults due to its size
This kalimba from HONHAND has a few thoughtful details within its design that aid its functionality and bring a little more comfort and practicality.
It is handmade from Acacia Koa which is the popular material used in musical instruments with beautiful gloss and finishing. And instead of commonly used ore steel, the tines are made from carbon steel with rounded edge finishing and music notes engraved on.
It features ergonomic hand rests on both side of the box that permit more comfortable positioning of hands while playing.
It comes with a decent shoulder bag and flannelette bag for better protection, storage and easy-carrying.
Pros:
Delicate in every detail
Hand rest curve design
Protective shoulder bag for nature lovers who need to carry it a lot to outdoors
Handmade with high quality Acacia Koa and carbon steel
If you want to make greater use of your kalimba, that is to say not to lock it up and put it away while you are not playing it, this Zaidenberg kalimba may be a good choice. It has unique design with an exclusive magnetic stand for propping up that allows you to place it wherever you want and decorate your home or office. And in case you get bored playing it a few years later, you can still use it as decoration.
In spite of its unique design, it does not compromise the sound at all. In fact there are customers who were at first worried about it not being designed with a hole, but later said it does not lose the beautiful tone at all.
It is lightweight, easy shape, and small in size. More suitable for people with smaller hands to hold and reach all the keys.
Pros:
Made from mahogany of the highest quality
Full, melodious and lasting sound
Design with a stand that fits into every home or office
Cons:
Small size that may not be suitable for people with big hands
As we explained earlier in Standard Features, if you plan to play on stage someday, then choosing a kalimba with built-in pickup would be necessary. The Moozica kalimba has built-in Hi-Fi pickup and interface for connecting amplifier for your open mic sessions. However, whether it can be connected for recording purpose is depending on the audio card of your digital devices. The Moozica kalimba can be hooked up to both professional guitar amplifier or normal home speakers. So if you can use other musical instruments for recording on your digital devices, there will be no problem for recording the kalimba.
The resonance box is made from selected solid Acacia Koa wood which ensures sound with perfect echo and delay.
It also comes with a professional kalimba case so you don't have to worry about it inside when carrying it around. It is a PU leather hard case with special key slot for better protecting, storage and easy carrying.
Pros:
Outstanding workmanship and sound
Professional protective case
Hand-rest curve design
Built-in pickup
Cons:
Need to check in advance whether it can be connected to a particular digital device
This review list and buying guide should help you determine which features are most important to you when buying a kalimba, enabling you to narrow down your choices.
Send us a sourcing request
and get free quote if you'd like to source similar or other products at wholesale prices (most kalimbas on market are made in China). We are a leading sourcing partner from China. We provide one-stop sourcing solution for small business. By using our service, you only need to deal with us during the whole process. No minimum order requirement.